Welcome to the J.C. Wheeler Public Library
The J.C. Wheeler Library is located in the heart of Martin, MI across from the Elementary School and Fire Barn/Township Hall.
Summer Reading Program is here!
Check out all the fun you can do thanks to our amazing supporters: Tuinstra Greenhouse, Van Elderen Inc, Hopkins LP Gas, Zuinstra Country Greenhouse, Ken Bleeker Insurance, Gun River Inn, R&G Construction, Gun Lake Women's Club, J&H Oil Company.
On Your Mark, Get Set...Read!
K-6th Summer Reading Program!
June 25th - KICK-OFF 10am-1pm

July 2 - "Have a Ball" 10:30 am BRING A T-SHIRT TO DECORATE
               Check out our Facebook photos of that fun day!
July 9 - Kick Ball 10:30 am
              This day was so much fun we FORGOT to take photos!  Here are a few from the kids eating icepops after the game.
July 16 - Outdoor Discovery 10:30am
                 This one was so much fun!  What was your favorite animal there?  I bet those who were there can guess which one was NOT Miss Denise's!  Look how AWESOME Miss Alicia is!  Saturday's visit with the Outdoor Discovery was a LOT of fun!
July 23 - Kalamazoo Nature Center 10:30 am (this is also Summer Festival day!)
July 30 - John Ball Zoo 10:30 am
August 6 - Awards! 10:30 am
Teen Summer Reading Program
Get in the Game!  Read!
June 27 - Kickball 3pm
         This event proved to be so much fun that the teens are asking us to do this every year!
July 4 - Library Closed
July 11 - Invent a Sport 3pm
                Not only did the teens invent a few new sports, we also had Smoothies!  Check out the photos we posted on facebook.
July 18 - Football 3pm
July 25 - Wiffle Ball 3pm
August 1 - Design a T-shirt 3pm
August 8 - Awards! 3pm
Adult Summer Reading Program
Registration for our Adult SRP begins on June 25th.  Get your name in drawings for a chance to win one of our awesome prizes! 
Play Bingo!  Get one entry in for a smoothie maker every Bingo you get on your Bingo game. 
Get one entry for a Gift card for every Book Review you turn in.
Keep track of your fitness minutes and get one entry for every 30 fitness minutes toward a brand new FitBit!
Turn in an essay (see essay tab at top of page) for 5 entries into the drawings of your choice.
"Check In" to or tag the library on Facebook with your fitness activity for an extra entry into the drawing of your choice. 
One Hour Workout and Nutrition Classes with Allison Halsted
Classes held at the Township Hall/Fire Barn across the road from the Library
Tuesday, June 28 at 6:30 pm
Wednesday, July 6 at 6:30 pm
What a fun turnout we had for this one! See?  ALL OF US SURVIVED and smiled.  It's a fun time!  Come work out with us!
Thursday, July 14 at 6:30 pm
Wednesday, July 20 at 6:30 pm (cancelled due to a scheduling conflict)
Tuesday, July 26 at 6:30 pm
Wednesday, August 3 at 6:30 pm (cancelled due to a scheduling conflict)
Allison will go through different workouts each week following many Beachbody plans.  You will get to try PiYo (pilates, yoga, low impact workout. Please bring a  yoga mat that day if you have one (not needed but would be handy) ), Insanity/Tabata, Hard Corps Bootcamp workout and others mixed in for fun. All links give you an idea of what the work out may entail but not necessarily what the workout will be.
Contact Allison for more information.
Any questions at all about Summer Reading Program, ask your friendly Librarians!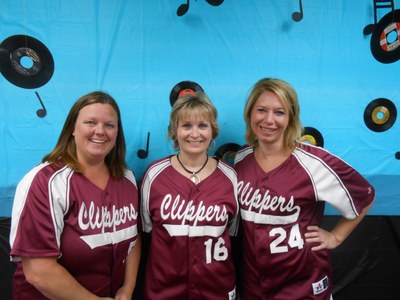 Miss Regina, Miss Alicia, Miss Denise
----------------------------------------------------------------------------------------------------------------------------------------------------
Follow us on Facebook to keep up to date on fun activities!
https://www.facebook.com/MartinJCWheelerLibrary
Like our Website?  Then you'll LOVE our BLOG.  Check it out and be sure to subscribe to get all our fun posts! 
http://martinjcwheelerlibrary.wordpress.com/
Book Club
June is our kick off of the Summer Reading Program.  Every summer the Book Club follows the theme of SRP with the books we read (our favorite was the get outside books when we discovered the Ladybug Farm series by Donna Ball but all of them have been fun!).  With a sports themed summer planned we have a list of sports book to read for the summer.
On July 25th at 1pm when we discussed Girl Runner by Carrie Snyder.
We have some runners in our group so we really thought this would be a GREAT choice.  While those who read it all agreed that it was very well written, they all agreed the book was rather dysfunctional and we had a lot of rabbit trail conversations with this one which always makes for a fun book club.
And we totally forgot to get a photo.  Which is sad because the food was delicious.
Our next book club book will be Monday, August 22nd when we will be discussing House Calls and Hitching Posts by Elton Lehman.
Here is the link on MEL to order the book yourself. MEL link
We do own this book at the library but we have to order so many!  Because we do own a copy, we had to change our ordering up a bit and the book arrives in large print so consider yourself informed.
Book Club is a laid back gathering that has so much fun talking about the book and life and eating lots of good food.  Join us at any gatherings!
 Teen Council is for anyone in 7-12 grade.  We will be meeting on every Monday at 3pm through the summer.
June 27 - Kick ball
July 4 - CLOSED (Happy Fourth of July!)
July 11 - Invent a Sport
July 18 - Tag Football
July 25 - Wiffle Ball
August 1 - Design a T-shirt (bring your own t-shirt)
August 8 - Awards!
Get in the Game - Read!
Kick Ball Day:
Make your own Sport/Smoothie Day:
Flag Football Day:
Wiffle Ball:
ALSO
If any teens need any community service hours, be sure to check with the Community Garden (Miss Alice can get you the information) and spend a few hours weeding for some community hours!  Or, check with the school for helping out during summer school.
Toddler Time is BACK!!!! Join us on Tuesdays at 10:30 am for a fun hour of coloring, singing, reading, crafting, eating and playing.

Story Time is SUMMER READING SATURDAYS in the summer.  There is always time to sign up in and join in the fun!  Summer Reading begins June 27 and ends August 8.  We will then take a quick break to enjoy the last few weeks of Summer without anything Library scheduled and then return to our regular Saturday Story times at 10:30 am.
 Your library resources available anytime, anywhere
MeL
www.mel.org

MeL is the library to library share.  You can request books, books on cd, movies and music from libraries all over the state.


Join the library on Good Reads and  be sure to friend us!
Good Reads
 - Book reviews, top sellers, author interviews, and news headlines
- Work and research from the office or from home, anytime
Links to Community Organizations
Allegan County Family Resource Directory
Allegan County Libraries

Local Churches

Allegan County Great Start Collaborative

Allegan County Historical Links